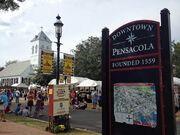 Pensacola is a town in Florida, which is the 27th state in the United States of America. It is where Sammy Harbors "Sammy Space-Time" currently lives and is the main setting of Enter Sammy Space-Time (both present-day Pensacola and its 1954 counterpart).
Though Pensacola, Florida is the place where Sammy and his family currently lives, it is unknown whether or not they have lived here their entire lives. However, it is likely considering the fact that a few of Sammy's ancestors (his grandfather Samuel Harbors and Ashton Harbors, who is Samuel's younger brother) lived here during the 1950s.
Nonetheless, the events of Enter Sammy Space-Time take place in various locations within this town (modern-day Pensacola and 1954 counterpart).
Known locations within Pensacola, Florida (in the Sammy Space-Time series)
Edit
-The Harbors' house
-Sammy's laboratory
-The Arnold Maize Orchard
-The grotto of the Time-Manipulation Ruby
-The Pensacola High School
-unspecified record shop (1954)
-unspecified diner (1954)
-unspecified movie theater (1954)
-town entrance/main plaza
-dirt trail (1954; most likely replaced with actual pavement by year 2014)
-The Nanigans' house
-Donatos (presumably)
-Haley's home (mentioned in Escape from the Killer Volcano; is possibly located in Pensacola, Florida)
-Oswald's home (possibly)
-Olivia's home (possibly)
Ad blocker interference detected!
Wikia is a free-to-use site that makes money from advertising. We have a modified experience for viewers using ad blockers

Wikia is not accessible if you've made further modifications. Remove the custom ad blocker rule(s) and the page will load as expected.